THE RESIDENT PATIENT
IN GLANCING over the somewhat incoherent series of Memoirs with which I have endeavoured to illustrate a few of the mental peculiarities of my friend Mr. Sherlock Holmes, I have been struck by the difficulty which I have experienced in picking out examples which shall in every way answer my purpose. For in those cases in which Holmes has performed some tour de force of analytical reasoning, and has demonstrated the value of his peculiar methods of investigation, the facts themselves have often been so slight or so commonplace that I could not feel justified in laying them before the public. On the other hand, it has frequently happened that he has been concerned in some research where the facts have been of the most remarkable and dramatic character, but where the share which he has himself taken in determining their causes has been less pronounced than I, as his biographer, could wish. The small matter which I have chronicled under the heading of "A Study in Scarlet," and that other later one connected with the loss of the Gloria Scott, may serve as examples of this Scylla and Charybdis which are forever threatening the historian. It may be that in the business of which I am now about to write the part which my friend played is not sufficiently accentuated; and yet the whole train of circumstances is so remarkable that I cannot bring myself to omit it entirely from this series.
It had been a close, rainy day in October. "Unhealty weather, Watson,"said my friend. "But the evening has brought a breeze with it. What do you say to a ramble through London?"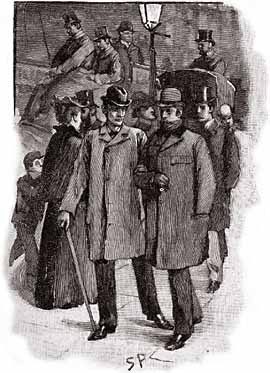 I was weary of our little sitting-room and gladly acquiesced. For three hours we strolled about together, watching the ever-changing kaleidoscope of life as it ebbs and flows through Fleet Street and the Strand. His characteristic talk, with its keen observance of detail and subtle power of inference, held me amused and enthralled. It was ten o'clock before we reached Baker Street again. A brougham was waiting at our door.